For the past year, UMBC has been subjected to extensive construction in order to update the entrance to the school and modernize existing intersections. The construction has affected commuters, those who live in the dorms and the UMBC staff.
The intense amount of work made some wonder whether or not it was all justified, with some students and faculty believing it to be more of a nuisance than anything.
Since the construction's start roughly a year ago, it has been forcefully continuous. The project's goals were to produce an easily accessible roundabout at the entryway of the campus and to upgrade pathways at the opening of UMBC, specifically the UMBC Boulevard/Hilltop Circle and UMBC Boulevard/Research Park Drive intersections.
Several of the intended benefits were proposed and seemed to make sense on paper. These goals included lessening traffic flow on the main entrance (UMBC Boulevard), multiple travel lanes, improving pedestrian safety, open plaza for pickup and dropoff, generating a more welcoming atmosphere, refining the administration parking garage, creating new bike paths and bettering service vehicle access and equipment drop off.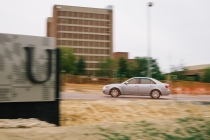 Lessening the traffic flow would positively impact the large number of commuter students who travel to UMBC's campus on a regular basis, making the enterprise gain favor with several commuter students.
Psychology major and sophomore Marissa Duncan reflected approvingly on some of the results of the roundabout due to summer construction, "I visited the school frequently over the summer … and experienced first hand the many stages of construction. I think that after everything is completed, the entrance will be worth all the effort."
Those who live on campus also responded enthusiastically with the program's endgame entrance. Chetra Mo, a sophomore computer science major, is another student who frequented UMBC over the summer semester. Mo said that the new roundabouts seemed to help deplete traffic. Mo also stated, "I don't commute, but I think my commuter friends will also be glad that construction will soon be over."
The assignment also strives to aesthetically polish the entrance of UMBC in order to appeal to any visitors. It aims to provide a welcoming air to the campus. Duncan said she believes that the final product "will be a focal point of the school," and, "will be very welcoming and inviting." These were some of the main factors in undergoing the project and contributed to a large part of the goals set by UMBC in order for this venture to be successful.
It seems that the keen responses, coupled with the expected decrease in traffic makes the long months of constant construction worth the wait for a superior entryway and pathways. Those students and faculty members who were frustrated with the seeming lack of progress must realize that construction like this can be strenuous for everyone, but ultimately improves our campus in much needed ways.
See more by this Author