UMBC has a strong reputation for its devotion to public service. Above, a staff member is pictured at work in the Shriver Center, which supports many programs that engage communities on and off campus while teaching students good citizenship. Unfortunately, one such program devoted to providing education to students with intellectual disabilities has been discontinued. To learn more about service at UMBC and the SUCCESS program's cancellation, we spoke to senior Chad Byrd, a biology and psychology major and an active service participant.
TRW: What community service are you involved in?
CB: I work with the SUCCESS Program through the Shriver Center. The SUCCESS Program is an excellent program in which students with intellectual disabilities develop skills towards lives of independence. They take classes about important matters such as personal finances and cooking and each student gets an internship they work at through the week. I am also an officer of Global Brigades. GB is a student organization that works through an international non-profit [that is] focused on sustainable development. I'm director of the medical program of GB and our program goes to developing countries to set up free medical clinics. This year, we're going to Nicaragua over spring break. We are going to do service events around the Baltimore area to compliment the work we do abroad.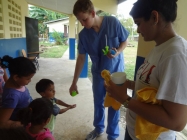 TRW: Why do you participate in service?
CB: I participate in service because I feel that, as an individual fortunate enough to not have a disability, it is my responsibility to assist others who may need assistance. In the same way, as an individual who is fortunate to be financially stable and have access to resources, I feel the need to help those who don't have the same resources as I do. In general, I feel that those who can help others and give back to the community have the duty to do so.
TRW: Do you think more students should be involved in service?
CB: I think all students who have the ability to participate in community service, should! There are so many different ways to help others and there are so many people who can do it!
TRW: What opportunities are there for students who aren't part of Greek Life to get involved in the community?
CB: In terms of Greek life and not Greek life, anyone can do service! While I do service events with my fraternity, I do a lot of service that has nothing to do with Greek life. Anybody can go to the Shriver Center to find out about the many service opportunities that are available for UMBC students.
TRW: Some people scoff at fraternity service and say it isn't that serious. What would you say to that?
CB: As for the "scoffers of frat service," I believe they're more scoffers of fraternities because there really is no need to scoff at any community service. If you're participating in service, no matter what the organization you're a part of, you're still helping others.
TRW: Could you comment on the discontinuation of the SUCCESS program?
CB: I hear from most people the program is closing because of the recent budget cuts. I hear from others that there is a misconception of the abilities of individuals with disabilities. I personally don't think either of those reasons are justified. In terms of budget, to my best knowledge, the SUCCESS Program is funded by state and federal external support and needs no financial support from UMBC so, the budget cuts shouldn't affect the program. In terms of the abilities of the students, I feel that they're more than capable to handle themselves on campus.
The program has gotten plenty of support from the other students and staff at UMBC. It provides hundreds of traditional UMBC students with opportunities for service learning. Faculty members are doing research with the program, so it is important not only for students, but also faculty.
I find it discouraging that they're choosing to get rid of this program when there are many individuals who would love to have the opportunity to attend a university and don't get that chance. UMBC takes pride in being noted as a very diverse institution and not discriminating, but I truly believe that this can fit into discrimination. UMBC places fourth in a new ranking of "Most Innovative" national universities. The SUCCESS Program fits right into that ranking because it is the first, and only four-year college experience for young adults with intellectual disabilities in Maryland. These types of programs are rising around the country, and other institutions are looking to our for guidance on creating similar programs. SUCCESS is an innovative program at UMBC and they're choosing to discontinue it when it should be getting more recognition, in my opinion.
I just feel that there is a lot of misunderstanding and overreacting taking place and I wish those in the decision making positions took into consideration the incredible positive impact the SUCCESS program is having on the UMBC campus community.
See more by this Author