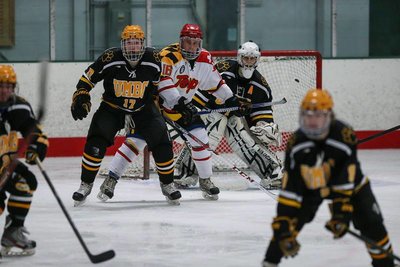 In 1988, several students with a love for hockey got together to establish UMBC's official ice hockey team. After 22 years of maturation, development and consistency, the Retrievers' ice hockey team finally qualified for the American Collegiate Hockey Association Nationals tournament.
In their debut at nationals, the Retrievers fought their way into the semifinals. The Retrievers continued their success, qualifying for nationals again in 2011, 2012 and 2014. 2014 saw the Retrievers making a return trip to the semifinals.
"We were definitely excited to play in the semifinal game," said club Senior Vice President Matt Kelly. Kelly added that the team's formula for success that season stemmed from the team's "great chemistry," on and off the ice.
The University of New Hampshire handed the Retrievers their semifinal loss in 2014 in an unusual game for Kelly, a New Hampshire native.
"It felt strange to play against them," said Kelly. "Ben Rafferty and I are both New Hampshire natives and had to start against a school that we both cheered for in high school and where most of our friends from back home go to."
Kelly also said that, despite the loss, being close to the national championship has taught the team what they will need to do both on and off the ice to potentially win the championship one year.
The team hoped to make a return to nationals in 2015, but faced a number of setbacks. After the 2014 season, the team's head coach left unexpectedly, and the team also lost a number of players due to either graduation or a choice made not to return. The team suffered several major injuries that sidelined key players for either the entire or majority of the season.
"We were left in limbo," said Kelly. "I think last year was a Murphy's Law season. Anything that could have went wrong, did go wrong. However, it certainly humbled us and gave us a renewed focus on our goals as a team. With our large recruiting class, we are certainly on track with where we want to be."
UMBC will need to rely on their recruiting class for depth to overcome a series of injuries they are currently facing.
"My only concern is the injury bug," said Kelly. "Many players have had to miss practices and games due to a variety of injuries. I hope that we can all get healthy and stay healthy. In order to make a run like we did in 2014, we need every player healthy."
Despite the team's injuries, their renewed focus is certainly paying off so far. The Retrievers are currently 7-4 after losing to the University of Maryland, College Park on Sunday, 4-2.
See more by this Author