"We want to create a tight-knit community for students in graduate school, something that is usually a very isolated experience."
Sitting in Doctor Joby Taylor's office is a cultural experience within itself. From a portrait of Mahatma Gandhi hanging up, to piles of linguistic and cultural literacy books stacked on his desk, to the punu mask commemorating his time in Gabon mounted in the corner, Taylor's love for interdisciplinary study can be seen in his office space and his mindset as Director of the Peaceworker Program.
For the past thirteen years, Taylor has dedicated his time to cultivating intercultural, learning environments for the fellows of the Peaceworker program, embracing his own interdisciplinary studies in philosophy, religious studies and global cultures.
Beginning as a fellow himself, Taylor came to the Shriver Center in 1999 to complete his Ph.D. in the Language Literacy and Culture program, with a dissertation titled Metaphors We Serve By: Critical and Constructive Play.
Since 2003, Taylor has directed the program, pulling from his Peace Corps and fellowship experiences to lead others.
"My participation in the program encouraged me to pursue this position and to cultivate an atmosphere that supports positive social change," Taylor said. "When the opportunity arose, I jumped at it."
One of the many things that makes UMBC's Peaceworker Fellowship unique is the academic scope of its fellows. "Most graduate programs have fellows studying a common subject, like education," said Taylor. "Here, we get to hear from people of all disciplines."
"We not only get to hear what was unique about their service experiences, but also see the common learning and the possibility to cultivate relationships across cultural divides," Taylor said.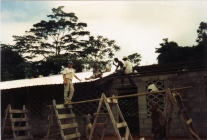 UMBC's Shriver Center may be one of the younger collegiate service-learning outlets, coming up on its twenty-third birthday in December, but its mission and Peacworker program are much more developed than other universities, according to Taylor.
Graduate programs for Returned Peace Corps Volunteers can be found around the country and include academic study, a service learning component and a small discussion forum for the fellows. Here at UMBC, the fellowship program includes the same first two components but also has a weekly ethical reflection series which then develops into five seminars throughout the fellows' studies.
Each semester, the fellows spend their time discussing methods to invoke social change in the surrounding communities with a specific theme in mind.
Over the summer, the program immerses each fellow into the culture of Baltimore through literature and tours of the city. Then, fellows can look forward to discussing the role of the individual in service, social dynamics, cultural dynamics and the role of spirituality in civic engagement.
The UMBC Peacworker Program's development can be linked to its founder, the Shriver Family. Through tortoise shell glasses and over cups of coffee, Taylor tells me how Shriver's (the founder of the Peace Corps) legacy and his love for Baltimore can be seen throughout the work his fellows do.
"It's probably because we're not a program founded by the Peace Corps but by the Shriver Family," Taylor said. "Sargent Shriver had close connections to Baltimore, and his family posed the question 'what would it look like if there was a program that reengaged people as they come home from service?'"
"Our program wasn't one that arose from the Peace Corps asking us, 'would you like to have a program?' The model was created before we ever really joined the Peace Corps network," Taylor said.
"It's the Shriver. We've Shriver-ized it."
See more by this Author