The University Center Ballroom was packed Friday night with nearly 400 students, eager to watch hypnotist Russ Peak perform as part of Welcome Week. Excited chatter filled the ballroom as the audience waited for the show to start.
Peak has been practicing hypnotism for 19 years, and performing at UMBC for 17. "I love the UMBC crowd," he said, "I always have a good time out here."
Before beginning the show, Peak explained how hypnotism works, likening the experience to zoning out while driving. He assured the audience that the effects of hypnosis would wear off, and they would wake up feeling refreshed, as if they had a full night's sleep.
With a broad smile, Peak invited 35 enthusiastic volunteers onto the stage. They sat in chairs and on the floor, packed shoulder-to-shoulder.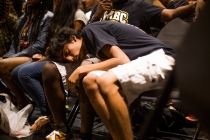 With peaceful, new age music playing over the speaker system, Peak told the volunteers to relax and counted backwards from 10. Students closed their eyes, and many slumped back in their seats or rested their head on their neighbor's shoulders.
At first, the hypnotist gave simple suggestions. He told the participants they had an impossible itch, and many frantically scratched at their shoulders or sides.
As the show went on, Peak's suggestions became more silly. Kasmi Odinammadu, a junior studying biology, briefly had the spotlight when Peak gave him blue pom-poms and told him he was a cheerleader named Buffy. At the mention of the word "fun," Odinammadu jumped up and led the audience in a cheer.
"Give me a B!" he called, jumping and waving his pom-poms. The crowd responded, and Odinammadu went on, spelling out the name Buffy.
Odinammadu came to the show a believer in hypnotism. He had attended two of Peak's shows previously, and volunteered each time. After the performance Odinammadu did not remember anything he did on stage. Still, he would recommend hypnosis to anyone.
"I feel great," Odinammadu said, "I did a workout today and I don't feel any of it."
Even some nonbelievers were subject to the power of Peak's suggestion. Ella Hawkins, a freshman studying biochemistry and psychology, was skeptical and did not volunteer to go on stage. She played along with Peak's suggestion anyway, thinking it would not work. She ended up being an active participant in the show.
From Peak's suggestion, Hawkins and other volunteers believed they were professional dancers. Hawkins enticed her friends to join in with her as she danced to Fefe Dobson's "Watch Me Move." After the show, Hawkin's friends gathered around her and told her of her dancing skills.
"I don't even know that song," Hawkins said, covering her face from embarrassment.  
She began the show as a skeptic, but at the end Hawkins affirmed she was a believer.
"I want to be a neuroscientist. I definitely will do research on hypnotism now," she said.
See more by this Author