Behind the scenes, dedicated professionals work to improve your time here on campus. In this series, "Making it Happen," the Retriever will speak to these influential people to learn more about what they do and why they do it. This week, space constraints and a growing number of student groups create challenges for Commons Event & Conference Services and provide opportunity for better student focus.
It is nearly impossible to find a space in The Commons that isn't filled with students. Pool cues click in the Gameroom, taps flow in Flat Tuesday's and students, faculty and visitors meander constantly through the hallways.
Arguably the center of campus, The Commons continues to be a hub of activity. It is where students go to meet, eat, talk and gather. Still, it might be surprising how much gathering actually takes place in the building.
According to Joel DeWyer, associate director at The Commons, approximately 16,000 gatherings took place in his jurisdiction last fiscal year. This number includes every event request, including meetings, major shows or programs, camps, tabling events and more.
DeWyer had a lot to do with this staggering number. "I wear lots of hats," he said. DeWyer's primary 'hat' is to deal with event and conference services, including programs, recreation and external contracts. He is also the business manager for the UMBC Chess Team.
The impressive magnitude of events that have taken place in The Commons "is indicative of a very vibrant social culture," said DeWyer. However, this demand for events is not without its difficulties.
"Space is always going to be a challenge for us," said DeWyer. In order to provide both more locations and effective services to student organizations, DeWyer has begun to reassess Commons resources.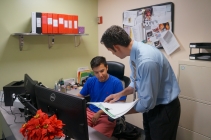 Recently undertaken, a space assessment examined every room in The Commons to evaluate current and future utility. The goal is to provide more space to students, so that more events can take place every year.
Likewise, with new additions of the Fine Arts recital hall and the Old Theater, opportunities for student events are growing. In the long-term, DeWyer expects the new Events Center to free up space in the RAC for students.
Regardless, this desire for expansion is ultimately student-oriented. "More space means less frustration," said DeWyer. Easier access to meeting space also creates a more student-focused environment, with an opportunity for more thoughtfulness while advising student organizations.
This passion for student development first led DeWyer to The Commons. In the intervening years, he has continued to foster a setting in which students can come together and have a balanced life on campus.
In his spare time, DeWyer also performs as a magician. Hosting 16,000 events and creating a vibrant campus life isn't magic, though—it's the result of careful, constant work from DeWyer and his team.
See more by this Author