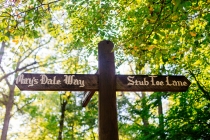 The Maryland Renaissance Festival is in town, and after my experience, I highly recommend that all UMBC students go before it closes for the year on October 25. The Renaissance Festival, or Ren Fair, has something for everyone: an immersive environment that makes you feel like you are in England at the time of the Renaissance, amazing demonstrations and delicious food and drink.
Walking into the Ren Fair, I was immediately impressed.  The main gate and the ticket booth were styled to look like a wall surrounding a castle. After I bought the ticket, I was greeted at the gate by a girl in Renaissance garb, and I felt like I had stepped into a different world. Almost everyone was dressed up, and the buildings were stylized to look like they were from a different time. Though it was amazing and reminded me of Magic Kingdom, it was somewhat overwhelming and the first thing I did was grab a map.
I decided to go to a glass-blowing demonstration that was near the entrance. This was truly something unique. Watching the master glass-blower transform a glob of semi-liquid glass, mixed with different metal oxides to give the final creation splashes of vibrant color, into a textured vase was really neat.
Unsurprisingly, the shops at the Ren Fair had renaissance or medieval themes. While browsing, I noticed that many vendors sold costumes that would be appropriate to wear to a Renaissance Festival. To my dismay though, the prices of these garments were exorbitant, with an entire outfit for an adult costing at least $100. Luckily, for those on a budget who still wish to experience the spirit of the Ren Fair by dressing up, rental costumes are available at the front gate.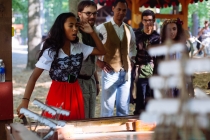 The shops at the fair were definitely a highlight. The themed items included herbs and teas, beeswax sculptures, handcrafted masks, swords, weapons and armor, paintings, drawings and much more that I was unable to see because there were so many different shops to browse through.
In addition to the shops, performances are given throughout the day. Medieval, and what seemed to be Viking, music could be heard in the distance wherever I walked. Watching bands such as Wolgemut and Cu Dubh added to the unique experience, emphasizing that you can't be a part of such an atmosphere at any place other than a Renaissance Festival.
Personally, my favorite aspect of the Renaissance Festival was, without a doubt, the food. At least half of the food options available could be purchased on a stick, including chocolate-covered cheesecake, key-lime pie, mac and cheese, steak, sausage, pork chops, s'mores, hickory smoked bacon, pickles and chicken.
While there, I indulged myself in a delicious creamsicle juice, a strawberry crepe called "the Princess" and a root beer float, all of which were delicious. Even trying these treats, I was unable to even scratch the surface of the foods that were available. I would have been happy to spend all of my money and gain obscene amounts of weight trying all of the delights the Festival had to offer.
This experience was a terrific one. I recommend spending a day or two at the Ren Fair seeing as many performances as you can, as well as visiting the shops and eating a meal or two. There are many things to do, and it is an adventure that will easily fill a weekend for any UMBC students interested.
See more by this Author