With the recent passing of Halloween, it is clear to see that Maryland is already gearing up for the holiday season. You can already hear Christmas music on certain radio stations, and all the major joints are already selling Christmas trees. The usual signals are already becoming apparent: the cold weather, the opening of ice skating rinks, the holiday treats and, of course, large warehouses full of people dressed as elves. Well, at least there has been one of those so far.
On November 14 at 1 p.m., 361 adults and children gathered at the Timonium Fairgrounds warehouse to take part in what would be a record breaking event. The event set the Guinness World Record of "Most Elves Simultaneously Wrapping Presents." Volunteers came decked out in their elf leggings and belts, and were all given red or green t-shirts and hats complete with elf ears.
Under the mark of the lead elves, the crowd of joyous helpers began to wrap their individual gifts, bow and all, as they took part in the breaking of a rather uncommon world record.
The event was organized and led by Santa's Helpers Anonymous, a non-profit organization founded in 1989 that is responsible for supporting over a thousand families in Baltimore during the holiday season. With over 800 volunteers and not a single paid employee, the organization freely supports Baltimore families in need this year.
The group has aided Baltimore by feeding over 4,500 people, supplying holiday gifts for 2,800 children, and delivering 25 tons of food to families, according to Linda Schneider, founder and "head elf."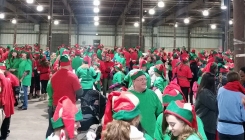 Although the wrapping event still supported families throughout Baltimore, Schneider said that the event was just as focused on the Baltimore area volunteers that participated as well as the families in need, maybe even more so. She expressed that the gathering would provide a fun, family-friendly experience that would bring people together. This kind of event is especially vital in light of often bleak news in the Baltimore area, and, more directly, the chaotic Baltimore riots that took place last spring. Any opportunity to bring the people of Baltimore together in a positive and effective manner is key to battling the effects of the recent riots.
SHA is far from finished with their holiday season charity. According to their website, over 150 turkeys will be provided to families in need, and hundreds of volunteers will help deliver gifts and dinners to families on Christmas Eve. Although the past year has been a dark one for Baltimore, private, non-profit organizations such as SHA are doing all they can to support those who need aid and, ultimately, keep the city of Baltimore woven together.
See more by this Author