If you have spent a significant amount time walking through Academic Row, you may have locked eyes with a furry visitor hiding in the nearby foliage. That, or you have witnessed small hoards of fellow students huddled around one of these felines, completely dazed and infatuated. If you haven't spent any time with them, do it now: Residential Life is getting rid of them.
These stray cats have become quite famous on campus this year, yet their origins and habits remain a mystery to most. Raphael Jeon, a freshman biology and psychology double major, had a few thoughts on the matter. "One [theory] was that someone in Biological Sciences owned one. Another says that one came from the apartments as a runaway from one of the residents there, yet others say that it is simply a feral cat that decided to live under the staircase between Biological Sciences and the Math and Psychology building."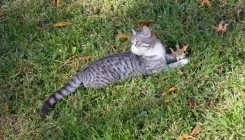 Rusty Postlewate, assistant vice president of Facilities Management, spoke to an anonymous employee who has worked on campus for thirty five years. "He indicated that, periodically, a cat may get abandoned by a departing student. The numbers of sightings of cats over the years have fluctuated."
Most people's interactions with the cats only amount to a quick glance, but some people take it a step further and attempt to physically interact with them or feed them. Despite our curiosity towards them and their dashingly adorable looks, there is much speculation about their presence here on campus and about human interaction with them. Although there are mixed opinions on the cats themselves, most people agree that caution should be taken when interacting with these cats.
Lafon Jones, a senior biology major, warned those who choose to interact with the cats or try to feed them. "Please don't feed the stray cats, or do anything that would encourage them to stay in the area. These cats have not been tested or treated for illnesses … feeding the cats can be very dangerous to their health, depending on what they eat. Your good intentions could very easily make the cats really sick and unhealthy."
Although these small interactions haven't proven dangerous so far, the threat is always there. Postlewate stated, "while not considered desirable, feral cats have not been considered too much of a problem. If a specific complaint is received about them, Facilities Management will have the pest control contractor attempt to trap them for turnover to the Humane Society."
Due to increased human interaction and the recent death of one of the cats who was accidentally run over by a vehicle, Residential Life has requested that Regional Pest Management remove the cats from campus.
According to Frank Caldwell, assistant director of Residential Life, "we requested that the process be handled humanely and the contractor is in agreement." Apartment Community Directors Douglas Copeland and Tia Howard reiterated that this will be a humane process in an official statement to residents.
Non-lethal traps have been set up around campus to harmlessly capture the felines. In their announcement, Copeland and Howard said, "residents are asked not to tamper with traps or approach captured animals. Students found tampering with traps may be charged for the cost of having the traps reset (aprox. $20 each per day) and face University conduct charges."
Along with this announcement, Copeland and Howard advised students to do certain tasks that would keep the feral felines from returning to campus. This includes tasks such as "disposing of all apartment trash immediately into dumpsters and closing the dumpsters, refraining from feeding or handling feral cats, driving cautiously and reporting all facilities or housekeeping concerns (damaged dumpsters, trash canisters, and spilled garbage) through the 'Fix It' website."
Most importantly, the directors encouraged that fellow residents who disregard community health and safety standards be confronted. It is imperative that the UMBC community does all it can to ensure the safety of its members and, of course, the feral felines themselves. Students might miss the cats, but assuming they're going to a rescue and not being treated simply as pests, they will probably be better off.
See more by this Author