On January 7, a $1.6 million dollar initiative between Baltimore City Public Schools, UMBC and the Northrop Grumman Foundation was announced at Lakeland Elementary/Middle School in Southwest Baltimore. The initiative's goal is to produce a boost in science, technology, engineering, arts and math education.
Lakeland Elementary/ Middle School was once one of the lowest performing schools in Baltimore. It is now in the top third in performance in its area in part due to their STEM education partnership through UMBC'S Sherman STEM Teacher Scholars Program.
UMBC has a history of being involved with the advancement of education in the surrounding area it shares. Three years ago, President Freeman Hrabowski and Lakeland Principal Najib Jammal began meeting and their efforts spawned programs such as the Shriver Center Peaceworker Program, UMBC's Sherman STEM Teacher Scholars Program and the Choice Program to Lakeland.
Rehana Shafi, director of the Sherman STEM Teacher Scholars Program at UMBC, stated, "We are in the third year of the partnership between UMBC and Lakeland Elementary Middle School. So when Northrop Grumman was looking for a way to invest more in the city, particularly in education, we showed them the work we have already been engaged in and discussed with them how it can be expanded and enhanced."
Their latest initiative with the Northrop Grumman Foundation, the philanthropy wing of an aerospace and defense company, will  attempt to enhance Southwest Baltimore schools, but more specifically see the construction of a new Science, Technology, Engineering, Arts and Mathematics center at Lakeland Elementary/Middle School.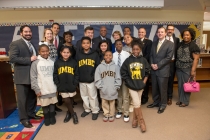 The new center, built in a currently-unused Lakeland recreation center will feature many new accommodations such as new science labs, computer labs, a sound studio and many more valuable resources for students, teachers, parents and community members.
Shafi explained, "With the additional investment, we also want to increase the ways we expose kids to science, reading and math through interdisciplinary activities, hence our decision to make a 'STEAM' Center. Moreover, we will serve adults in the community through continuing education and job training classes, and we hope doing so will improve their access to employment opportunities."
Sandra Evers-Manly, president of the Northrop Grumman Foundation and Northrop Grumman vice president stated, "This partnership is an outstanding opportunity to involve Northrop Grumman employee volunteers who can share their mentoring expertise with students and adults in nearby communities, reinforcing the link of academics to the wide-ranging career opportunities available in science, technology, engineering and math-related professions."
The center is scheduled to be completed by January 2018. However, there is another component of the initiative which will have a much more present effect on the community.
That part of the initiative is the advancement of UMBC's Choice Program, "a community-based, family-centered case management approach to delinquency prevention and youth development." Specifically meant for at-risk youth, The Choice Program provides a number of services from after-school activities to classroom coaching and family support services.
In partnership with the Northrop Grumman Foundation, The Choice Program will expand to Benjamin Franklin High School at Masonville Cove and Excel Academy at Francis M. Wood.
As President Hrabowski said in CBSBaltimore coverage of the event, "It should be about all the disciplines, about knowledge itself. Yes, science is important but art is important and the humanities are important and learning about life is important."
See more by this Author