From March 28 to April 3, Light City Baltimore lit up the city streets as the very first international light festival to take place in the United States. Baltimore "was the first in the United States to suggest illuminating its streets with hydrogen gas lanterns," and after 200 years, the city celebrated and brought to light the still-present, revolutionary ideas and dedication that it has always had, according to Visit Baltimore.
Thousands of people walked around The Inner Harbor, Fells Point and Hampden on Saturday night to appreciate the wide variety of attractions, exhibits and performances created by local, national and international artists.
In addition to the six other nights of the festival, it is impossible to imagine the sheer magnitude of its reach.
This festival, according to the Light City official website, "Is a stage to showcase Baltimore as an international city, highlighting its people, its music, its creativity, its innovation and its BRILLIANCE."
Throughout each crafted display, original performance and each meticulously planned out LED light, nothing lacks that creativity, innovation or brilliance. More than just a large-scale collection of glowing, artful constructions, Light City Baltimore was a creative statement.
With over 50 attractions as a part of the 1.5 mile BGE Light Walk, festival-goers had an opportunity to be a part of the displays and help to bring them to life.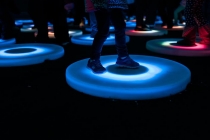 From the stepping stones in the attraction titled "The Pool" that changed colors with movement, to the interactive "Water Wall" using projected images on a water screen in the harbor, festival-goers determined their view and the outcome of the pieces.
The festival was free of charge and open to all ages with attractions accessible for all festival-goers. Musical performances by DJ's were held at the Club Light City stage while instrumental performances took place in Harbor East and circus acts were made possible through Circus of Wonders. Vendors welcomed the age range by selling a variety of creations from LED cotton candy to vodka ice cream.
In comparison to the 20×40 foot illuminated attraction titled "Peacock," some pieces that weren't as elaborate held an even greater and deeper meaning than seen at first glance. The "Diamonds Light Baltimore" display — 15 differently-sized diamond structures spread around the sidewalks — were not only bright and popular to take pictures with, but they also changed their colors from blue to white at 10 p.m. each night to remember the citywide curfew from last April.
Everything worked together seamlessly to essentially do one thing: "cause attendees to see situations in new ways, rethink their deeply held beliefs and reflect on key societal issues of justice and equality."
Like any other piece of art or large-scale festival, creators and artists have a primary purpose to make people think. Whether it makes them question something or understand something a little more, artwork should leave a lasting impression on its audience. For Baltimore, the true purpose of the Light City Baltimore festival is sure to be that it will leave a lasting impression of the city on Baltimoreans and the rest of the world — one of hope, light and opportunity.
See more by this Author