Nearly a thousand angry demonstrators rallied in downtown Baltimore last night against President-elect Donald Trump whom they denounced as a threat to the nation. The protest was organized by UMBC student Kaila Philo.
Peaceful but tense, protesters gathered near 2010 N Charles St. around 6 p.m. and began their march south amid chants of "Not my president," and "We reject the president elect." Baltimore City Police maintained a perimeter around the group but did not intervene.
Kaila Philo, a senior English major, took to Facebook shortly after it became clear that Trump had won the presidency and coordinated the protest. The event was widely shared with over 2,000 users indicating that they were interested in attending.
Richard Elliot, a UMBC student and the leader of the "UMBC Progressives" movement, was distributing sandwiches and sodas to fellow protesters. "I'm here because I can't fade [Trump's] fascism," he said. "This election is a failure of the American democratic experiment."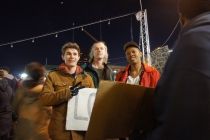 Traffic throughout the Inner Harbor was snarled as groups of protesters traversed intersections with the help of police. Though there was no violence, onlookers catcalled from the patios of bars and restaurants lining the harbor. "Should have voted!" yelled one. "Some of us actually have work in the morning," yelled another.
As the protest spilled over E Pratt St. and into the Harborplace shopping center, a crowd formed around a young woman with a bullhorn. "Take this moment, take this movement and mobilize," she urged. "It doesn't stop here!" The announcement was met with cheers from the crowd and chants of "Pussy grabs back!" — a response to a leaked recording of Donald Trump from 2005 in which he brags about getting away with sexual assault due to his celebrity status.
Kimber W., a 28-year-old Baltimore resident who was adopted from South Korea as a child, said that she was "out here to protest Trump. I'm terrified of a president who doesn't believe there's a place for me in my own country."
According to police, three people were detained and one was charged during the protests. Protesters lingered around M&T Bank Stadium until about 11 p.m.
Although many onlookers were indifferent to the protest, some were against it. Will, a 27-year-old Baltimore County resident who was watching the protest from behind a police line in front of Raven's Stadium, said that "this protest is a joke."
"If you really want a better country go out and work. This protest is about nothing but people who have had everything handed to them and they're scared of change. The working class should not have to be supporting everyone else, like the democrats out here," he said.
"This is what democracy looks like!" chanted the crowd.
See more by this Author