On Saturday, Oct. 3, the UMBC Tae Kwon Do Club arrived in the CCBC gymnasium in Essex to participate in their first ever competition. The team entered with a strong air of camaraderie around them and while there were plenty of ups and downs for team's debut competition, there was definitely a sense of unity among the team through the event.
"We can't fail today," said Tae Kwon Do president Allison Basiley, who has endearingly earned the nickname "mom" from the team due to him giving the team breakfast before the tournament. "If we don't win, it will still be a great showing from the first competition and we would have learned so much."
The 10 UMBC Road Warriors competed in individual competitions in forms, board breaking and sparring and UMBC left with trophies in every category. For UMBC, they were all performances from which to take pride. "We've represented UMBC really well and we'll continue to," elaborated Bailey. The forms team came out with six trophies, three of which were first place, in three different belt levels. The forms team was caught off guard by having to be the first to perform, but still looked exceptional.
"We came in and I wasn't too worried, but then forms started approaching and I started getting worried, and then they called my name and it felt surreal," said Jamshaid Shahir, whose lone performance in third decisively earned third in his level.
The breaking team also gave an admirable performance, leaving with the top three awards possible in two different levels. Black belts Shawn Yang and Michael Daugherty received first and second at the black belt level respectively for two tumultuous board breaking performances and yellow belt Danielle Leginze earned first place at her level for a ferocious board breaking showing. "I never broke the second board with the kick in practice, but I was so mad after being off from the first that I managed to nail it on the first try," said Leginze.
Sparring was the one team without unwavering success, coming into very difficult matchups without competitive rules experience. UMBC's sparring team went into four matches and found themselves in an early hole in all four.
"When it comes to sparring, we've done a lot of preparing, but the first time is tough, nothing beats that first time experience," said sparring leader Alex Al-Jazrawi.
Alex and Shawn both went against divisionally ranked black belt opponents and came away with admirable performances where they made adjustments and left it all out on the mat, with the whole team giving true grit performance to make UMBC proud.
The UMBC Tae Kwon Do team had an amazing debut competition and are projected to become an elite force. There are competitions on November 7 and November 21 that the team may decide to go to, but regardless of whether they do or not, the team will commit to growing each week as individuals and Tae Kwon Do members.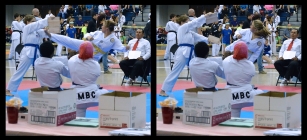 See more by this Author