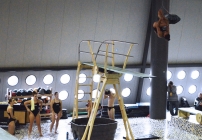 The UMBC men's and women's swim teams paddled through and swam to victory against George Washington University this past Saturday after defeat against Navy just over a week earlier. The swim meet was delayed by one hour after a planned power outage by UMBC took effect at 1 p.m. The team used this time to warm up with laps in the outdoor pool, relax and receive motivation from their coach to stay focused.
The team began their meet in front of an energetic audience on the upper bleachers and excited teammates on the side of the pool. The men's side won the meet 132-115 and the women's team won the meet with 138.5-120.5. The 200 medley relay was successful for both.
The men, sophomore Nikola Trajkovic, senior Leo Endres, sophomore Philip Adejumo and junior Greg Spoerlein took victory with a time of 1:34:02. The women's team, junior Lauren Day, junior Emily Escobedo, junior Amanda Day and senior Kristie Langford won as well, with a time of 1:46:25.
Following the 200 medley relay was the 400 free relay, and success went to the Retrievers here as well. The women's quartet of Escobedo, Langford, senior Catherine Frediani and freshman Hania Moro won with 3:34:55.
The men's team, freshman Andrew Sanchez, sophomore Jared Vance, junior Darnell Yarberough and Spoerlein triumphed with a time of 3:11:55. Victories such as these would help swing positive energy into the individual events.
Freshman Alexander Gliese won the first race of the 1,000 free swim with a time of 9:44:65. Moro won her race in this event as well with 10:15:39. Following these wins, several swimmers  also brought in victories for the team leading to their eventual overall success as a whole.
Freshman Laura Massicotte and Trajkovic won the 200 free with times of 1:54:51 and 1:43:76, respectively. Escobedo, with 1:04:09 and Endres with 59:02, both defeated George Washington University in the 100 breast. Wins were also gained in other events including the 100 fly, 200 breast, 500 free, 100 back and 200 IM.
The Retriever's next swim meet will be this upcoming weekend at the Virginia Tech Tri-Meet.
See more by this Author