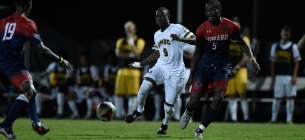 It has been a good couple of weeks for the UMBC men's soccer team. After their 3-1 loss to UNC Wilmington, the Retrievers have gone 4-0-2 in their last six games. The defense has played particularly well over that stretch.
UMBC owns a plus six goal differential during their six-game unbeaten streak, including two shutouts. The club looks to be in good form heading into their conference schedule.
Scoring has not been this team's calling card so far. UMBC ranks fourth in the America East Conference in goals per game and second to last in shots. The offense has not needed to score a ton given the great defense over the last two weeks. It is hard to lose games when your opponent does not score.
As of Sept. 22, the Retrievers rank 60th out of 203 Division I programs in goals against average. Allowing 1.01 goals per game, the Retrievers are on pace to continue their strong netminding from last year. One season ago, UMBC carried the best GAA in the America East (0.87). Additionally, UMBC gave up three or more goals in a game just one time in 2015. The Retrievers rode their great goal prevention to an 11-6-3 record in 2015.
It is arguable that UMBC is limiting goals despite a slow start from senior goalkeeper Billy Heavner. The Landisville, PA native is averaging a career high in GAA (1.01) and a career low in save percentage (.757). While those stats are career worsts for Heavner, they are far from terrible. It remains to be seen if the best is yet to come for him. In the past two games, Heavner has a save percentages of 1.000 and .857, a good sign going forward.
The conference opener against New Hampshire may prove to be among the Retriever's toughest tests the rest of the way. Mark Hubbard's club comes in with on of the best records in the conference and one of the most explosive offenses.
New Hampshire has a goal differential of plus 16. They are in the top ten in the country in total goals and goals per game as of Sept. 22. Led by sophomore forward Chris Arling and his nine goals, the Wildcats are a good test for this young defense.
The Vermont Catamounts represent the other staunch challenge. Like New Hampshire, the Catamounts rely on scoring for much of there success. Vermont ranks seventh in the country in goals per game.
In between Vermont and New Hampshire are matches against teams of varying difficulty. Only four teams remaining on UMBC's schedule have a negative goal differential (Albany, Navy, Hartford and Drexel). Navy and Drexel are the only teams UMBC plays with less than 10 goals (five apiece).
UMBC last made the NCAA Tournament in 2014. They rode a tremendous run of four straight shutouts to the College Cup semifinals. The Retrievers last gave up more than one goal per game in 2011, the last year head coach Pete Caringi Jr. suffered a losing season.
Defense is the consistent calling card of this UMBC club. If the Retrievers continue to play stout defense with timely scoring, an America East title is not out of the question.
See more by this Author