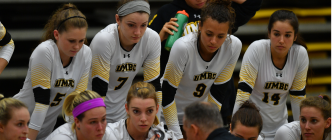 UMBC's women's volleyball team enters October with a 10-4 record and high levels of energy on their side. Still, early conference play has only just begun, and the Retrievers sit at 1-1 in America East Conference play after a three set sweep by University of New Hampshire.
Despite starting their season with a fair 2-2 record in August, the women's volleyball team exploded in September by beginning the month with a five game win streak within multiple invitational tournaments. Though the Retrievers lost two games in a row as they entered the Charm City Challenge, head coach Ian Blanchard's team took advantage of the benefits that come with hosting the competition.
Wins against the University of Akron and Loyola University Maryland and a victory in the finals against Delaware State University allowed the hosting team to sweep the tournament. Only giving up two sets in three games gave the volleyball team ample momentum entering the Maddie Bingaman Memorial Tournament.
After taking two wins for themselves, the win streak eventually ended in the finals of the tournament in Baltimore. The Retrievers proceeded to win three of their next four games to end September.
Junior Abbie Mirabella is a large part of the Retriever's success so far this season. Currently, Mirabella leads the team in kills and points per serve with a monumental 4.19 and 4.7, respectively. The team is being aided by phenomenal back court play by way of sophomore Kristin Watson, who leads the team in digs and fellow sophomore Claudia Lopez, who leads the team with a staggering 442 assists.
Last season's transition year has definitely began bearing fruit this season as UMBC has developed consistent net play and outstanding play behind it.
This Saturday's matchup against the University at Albany Great Danes is a huge game for the Retrievers, whose conference record sits in equilibrium. Under the lights of homecoming, the Retrievers will try to harness the momentum they developed through September and use it to take a leg up to go 2-1 in the conference and make a push for a strong postseason position.
See more by this Author