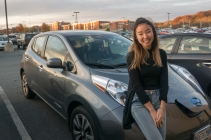 Sometimes, when you drive around the loop, you can feel like you're in a cash for clunkers lot. It's an eclectic mix of faded paint, scratched doors and taped-on parts. I throw no shade: my 12-year-old Toyota fits right in. In this environment, any car newer than 5 years old stands out for its shiny paint alone. But sophomore biology major Gabbyelle Hwang's car stands out for another reason: unlike almost all of the cars around it, Hwang's Nissan doesn't run on gasoline.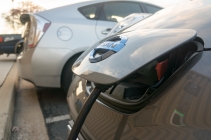 Her 2015 Nissan Leaf is fully electric. It's the way of the future, on a campus designed to mold the minds of the future. But according to Hwang, in everyday driving, it's not that simple.
"It's a love-hate relationship," said Hwang. "Love, because I love how compact and quiet my car is. My friends are always amazed when I start the car and they don't even notice." This being the first electric car I've ever ridden in, I was a little thrown off too. The car just starts moving without any indication that it's powered up (other than some dashboard lights). It's easy to imagine mishaps with pedestrians who don't realize the car is running, but Hwang's a good driver.
So, how about the other side of that love-hate relationship? Said Hwang, "hate, because the battery life can only carry up to a maximum of 100 miles so I have to consistently charge it." For comparison, my gas-powered Toyota is good for an easy 400 miles.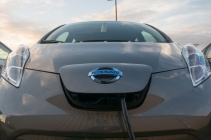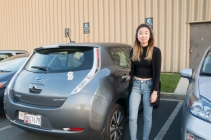 Driving an electric car also means Hwang does plenty of walking. "The charging port on UMBC's campus is also pretty far from the rest of the buildings, so walking back and forth does take some time," said Hwang. The ports are located at the back end of the Stadium Lot. "But, on the bright side, I don't have to pay a penny for gas!"
For most of the driving that your average campus resident does, the Leaf's range is more than sufficient. And not having to fill a gas tank is an enticing concept. But Hwang's not just saving her wallet. She's also saving the environment, and she's won admission into a tight electric-car family.
"One time in a Giant parking lot I got out of a car and a white Nissan Leaf was driving towards me," said Hwang. "He stopped, rolled down his windows, and with the biggest smile he said, 'hey! Nice car! Saving the Earth one car at a time!' These small interactions always make me feel like I'm part of a small eco-friendly community."
[Best_Wordpress_Gallery id="12″ gal_title="Retriever Rides 3″]
Photos by James Gallagher for TRW.
See more by this Author