A small, but dedicated group of equestrian enthusiasts are putting in hard work to making the UMBC equestrian club and team a success. The club meets each Wednesday during free hour in room 113. The meetings are informal, bringing in around 10 students each. The club discusses their love of horses, technique, places to ride and the possibility of joining the team.
While anyone can come to the club at any time, the team only has positions open in the fall. Hopeful members must take a lesson with the team coach, in order to be assessed on their technique and abilities before joining. Many students may not know that the UMBC community participates in equestrian events, but the team here competes against regional schools such as Goucher College, American University and Towson.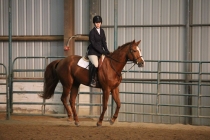 Zoë Fritz is the club president and a sophomore studying elementary education. Speaking on team events, "at the beginning of the day the coaches have a meeting. You draw a random horse, so you get that horse for the day and you ride it in your class," Fritz said.
There are not a lot of fancy tricks like there would be in a dressage competition. Instead the team is judged on technical skills such as their body and heel position, as well as how well they sit in the saddle and communicate with the horse. They typically compete in hunter competitions where they dress in black coats, white pants, gloves and knee-high boots to emulate the look of traditional English fox hunters.
Working with horses takes a lot of work, but it is also a satisfying experience.
"It's rewarding," said Fritz, "especially if you're working with a horse that you started with and you kept going and you can see the progress that you and your horse have made, you create a bond."
Love of horseback riding has also given this group a common ground to build friendships. "We're all in it to have fun," said Hannah Dixon, a freshman majoring in visual art with a concentration in photography, "We're not in it to prove we're better than one another. We're a team."
Her love of equestrian competition is what led Dixon to choose UMBC.
She explained, "Most colleges in our area have a club sport for equestrian. Some are more serious about it than others but it is one of the primary factors that led me to apply here."
Dixon has gained a lot from riding horses, aside from strong friendships and a passionate hobby. She explained that, "They've taught me so much; they're very good teachers. I've learned a lot about myself." 
See more by this Author